Rota Software Solutions for Care Homes
Providing the best quality of care means having your staff informed and prepared as quickly as possible.
Lacking a clear schedule in place, you risk mix-ups that can cost time, money, and even impact the level of service you give. That's where Bizimply's come in. Online rota software that's fast, easy to use, and accessible from anywhere — including your carers' portable devices.
Managers spend about five hours on average a week planning and managing rotas — that's more than two workdays every month. While building a rota from scratch usually takes the bulk of a manager's time, there's also the matter of communicating and distributing schedules with employees. If you cant guarantee staff quickly have a copy of the latest rota, there will be even more issues.
If an employee has an issue contacting you or a colleague to check their shifts, they either have to risk missing a scheduled shift or turn up to work at the next opportunity to find out whether or not they're meant to be in. This can be incredibly frustrating for staff and adds unnecessary stress to their working lives. This can lead to high turnover if your staff believe, like many workers,  that his system of distributing the rota is unnecessary with today's technology. If staff know that employees at other businesses don't face this problem, they'll be more tempted to look for work elsewhere.
With Bizimply's rota software, your care home staff always have access to the very latest version of their rota, with any tweaks or updates immediately communicated via text, email, or push notification, so you can be sure that all staff are up to date.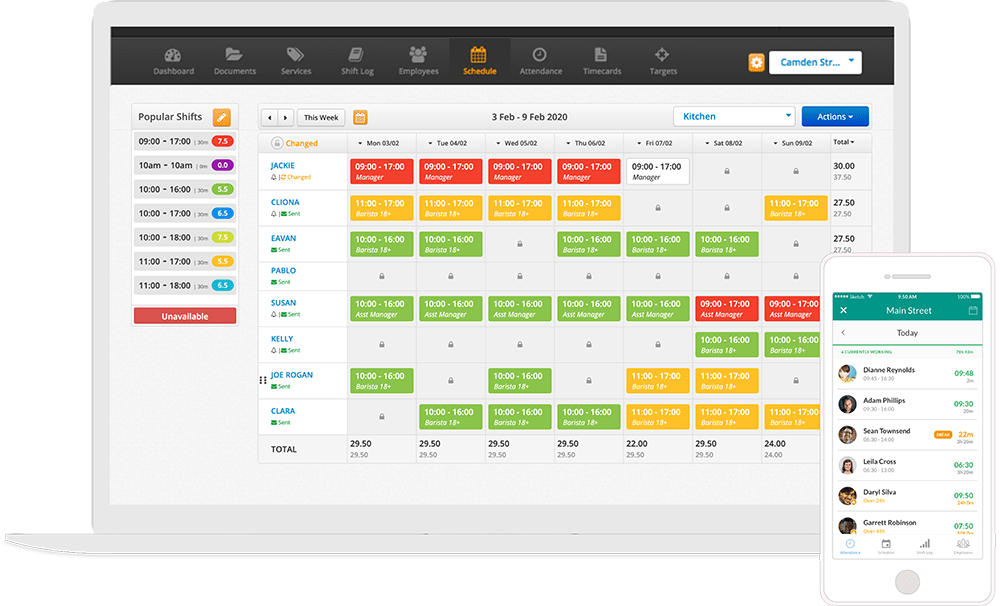 Easy and effective rota building
You don't have to be tech-savvy to be able to use Bizimply's rota software. Create and change shifts, colour code roles to easily check carer coverage, and view detailed staffing graphs and reports in just a few clicks. This is a much simpler and more efficient way of processing rotas than the previous way.
Set a flat rate to apply to all sleep-in shifts or an hourly rate — whichever your company uses. Compile accurate wage data for payroll in seconds — no more manually typing into spreadsheets. Employees will need as much notice as possible when it comes to an overnight shift, and if there is a late cancellation and you need another employee you need to inform them immediately.
Mobile time tracking made easy
Bizimply's rota software system also provide care homes with GPS-restricted mobile clocking in and out. Therefore, timesheet data is populated accurately and promptly for every home visit — with no manual data entry required, saving time for care home staff, that can be better spent with patients.
See what a tailor-made, customisable Rota Software suite looks like.
"When I was a store manager it was already saving me about an hour a week for rota-building alone."
Operations Director, Golden Discs
Rota Software creates a successful workflow with Golden Discs and Bizimply.
By joining forces with Bizimly, Golden Discs can now reap the time-saving and cost-cutting benefits of having Bizimply's Rota Software such as :
Frequently Asked Questions
What size business does Bizimply's rota software work best with?
Bizimply is a scalable solution, and specialises in people & operations management solutions for 25 to 1000 employees. We link your time & attendance, scheduling, HR and payroll processing in one easy to use solution. While reducing and managing staff costs we also provide the solutions to better manage the day to day operations for you and your team, saving you time and money straight away!
How do you build rotas with Bizimply?
Our sales team would be happy to walk you through the easy to use process of building rotas with Bizimply.  To describe the process briefly, all staff receives an email of their own individual rota when it is published unless they have been manually excluded from the email.  Managers and other authorised personnel can easily log onto your preferred web browse, or via the app "My Zimply" with your Bizimply login information.  Once your schedule is published, your shifts will be available to see on the app or portal.
Can I track my staff's location with Bizimply?
Yes, Bizimply provides companies with real-time insights into your mobile workforce. With our GPS time tracking system, managers of mobile teams can verify employees are safely on-site, from anywhere. This function is ideal for staff who travel from one site to another, as every time record includes GPS location coordinates. These GPS locations are then recorded on a map in the employee's timecard. Employes also, upon completing their shift, and beginning their shift will be asked to complete questionnaires. This facility ensures that your staff stays compliant with break laws and working time directives. All that is required is a wifi connection for the installation of Bizimply, and it works offline too!
Try Bizimply's All In One
Workforce Management Platform