Rota software for Manufacturing
Sometimes staff even switch shifts without asking or forget to tell management. This causes even more of an 'admin burden' using up more of your staff's valuable time while you make the changes to your schedule. Think of all the phone calls, texts and queues into your office you get when your employees want to swap shifts. This is not an uncommon occurrence in the manufacturing industry.
Shift swapping can also have an impact on the number of hours an employee is working potentially bringing extra cost if it triggers any overtime payments which will have a direct impact on your budget. What you really need is a rules-based system where this can all be managed in one place and shifts that need to be swapped can be done so within your workforce management system.
Staff naturally always want to know when they're working next. Manually, it takes a significant amount of time to answer that question for one employee. Let's say it's 5 minutes. Now say 50 employees ask the question. That's 250 minutes – or a little over 4 hours. 4 hours of your time you'll never get back, solving a problem that, with Bizimply's rota software, never exists in the first place.
Bizimply's Rota Software is the only complete SAAS solution to run your entire manufacturing business.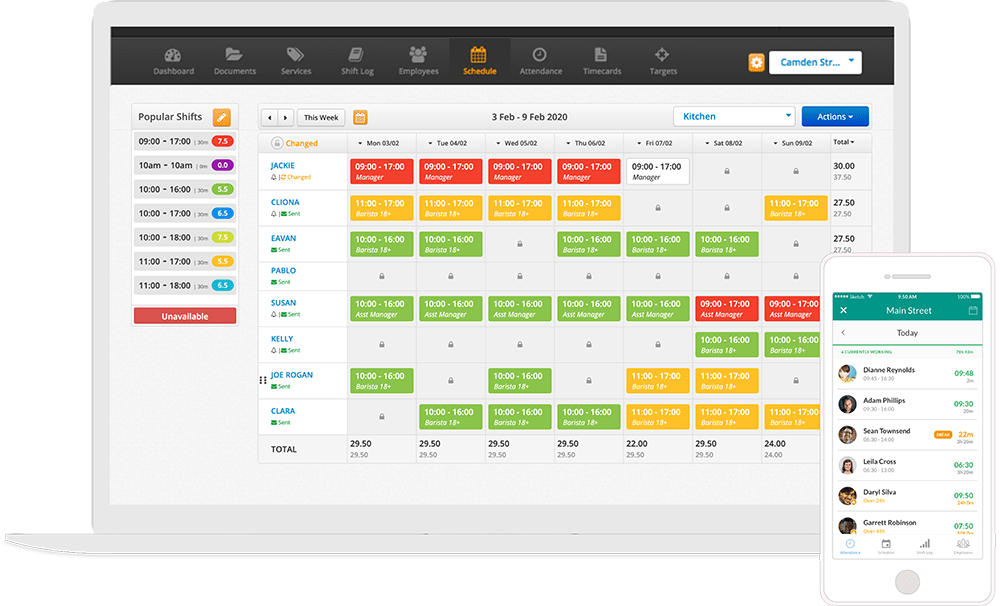 Lessen admin work with Bizimply's easy timesheet-to-payroll processing. Our rota software gives you the option to automatically calculate staff pay based on your local labour laws and Have complete oversight over your data with live Insights. You can then create rotas with your timesheet history to stay in line with wage costs, increasing efficiency in operations and spend less time on admin tasks.
Match employees availability to demand
Bizimply helps you plan for changes in demand, schedule the right employees quickly, and keep your costs within budget. With rota software, you can schedule available, qualified staff with drag and drop tools and receive an alert if they have too many hours.
Make it easy for manufacturing and delivery staff to submit their availability & leave with Bizimply's rota software mobile app. You can send schedules to your staff instantly from the web or mobile.
Ensure staff are paid correctly for their time — and help protect your teams from illness. Our messenger feature on our app can automatically allow staff to inform you of worrying symptoms before they start work, capture their exact time on shift, and give your customers confidence that hygiene protocols are followed. Your staff can record their exact time on shift from their mobile devices — and verify their start and end locations
See what a tailor-made, customisable Rota Software suite looks like.
"When I was a store manager it was already saving me about an hour a week for rota-building alone."
Operations Director, Golden Discs
Rota Software creates a successful workflow with Golden Discs and Bizimply.
By joining forces with Bizimly, Golden Discs can now reap the time-saving and cost-cutting benefits of having Bizimply's Rota Software such as :
Frequently Asked Questions
What is rota software?
Rota management is the same as shift planning—a list showing when employees have to do their job. Traditionally, it was one of the more hated jobs in the business world as it required a manager to constantly edit a schedule. Any shift swaps or cancellations proved time-consuming and annoying to implement. It was an inefficient process few managers enjoyed. But Bizimply's automated and real-time digital technology now means it's much easier to accomplish—and even enjoyable!
What size business does Bizimply's rota software work best with?
Bizimply is a scalable solution, and specialises in people & operations management solutions for 25 to 1000 employees. We link your time & attendance, scheduling, HR and payroll processing in one easy to use solution. While reducing and managing staff costs we also provide the solutions to better manage the day to day operations for you and your team, saving you time and money straight away!
How can I transfer my rota and attendance information to payroll with Bizimply?
With Bizimply Timesheets, employers and managers can approve payroll documents in a few clicks. Your managers can save time and money by approving and sending your timesheets to your payroll providers in minutes. The timesheets provided allow you to automatically calculate and deduct unpaid breaks, as well as automatically calculate overtime and premium rates. To give you even further peace of mind, all timesheets are stored securely in the cloud.
Try Bizimply's All In One
Workforce Management Platform