Rota Software Solutions for Coffee Shops
A coffee shop provides customers with caffeinated beverages,  quickly and easily to makes their day run smoother. Bizimply provides the same benefits, with their Rota Software for coffee shops.
Coffee shop owners understand the importance of not spending more time on admin than actually running their business. Bizimply provides the fast, no-nonsense way to plan rotas, track attendance, and manage annual leave, all in one place.
Reduce your wage bills, eliminate staffing mix-ups, and cut rota management time with our easy-to-use software, ensuring your chefs, waiters and baristas s always have the most up-to-date version of the rota in their pocket.
After the long process of typing, printing and distributing the weekly rota, having an employee need to change shift can cause extra work for managers. 
Of course, things can come up last minute for staff, however, you still want to ensure you are not left shorthanded in the café. 
With Bizimply, if you need to change a shift once the rota's been published, you can relax, safe in the knowledge that your chefs, baristas and waitstaff always have access to the most up-to-date version of the rota from the portable devices in their pocket.
On the other hand, you do not want to get caught overpaying staff when there is not a requirement for so many on-premises.
 By having live real-time data at your fingertips, you can see a clear visual representation of exactly when and where your staff are scheduled to work, so you can tell at a glance if you have enough — or too many — wait staff, baristas, or kitchen staff on the rota, next to the overall estimated staffing cost per day.
Managing a busy cafe isn't easy. That's why you should let tech do the heavy lifting when it comes to employee scheduling. Instead of spending late-nights, week-in and week-out building schedules, build your schedule in a few clicks and enjoy the benefits of Bizimply's Rota Software.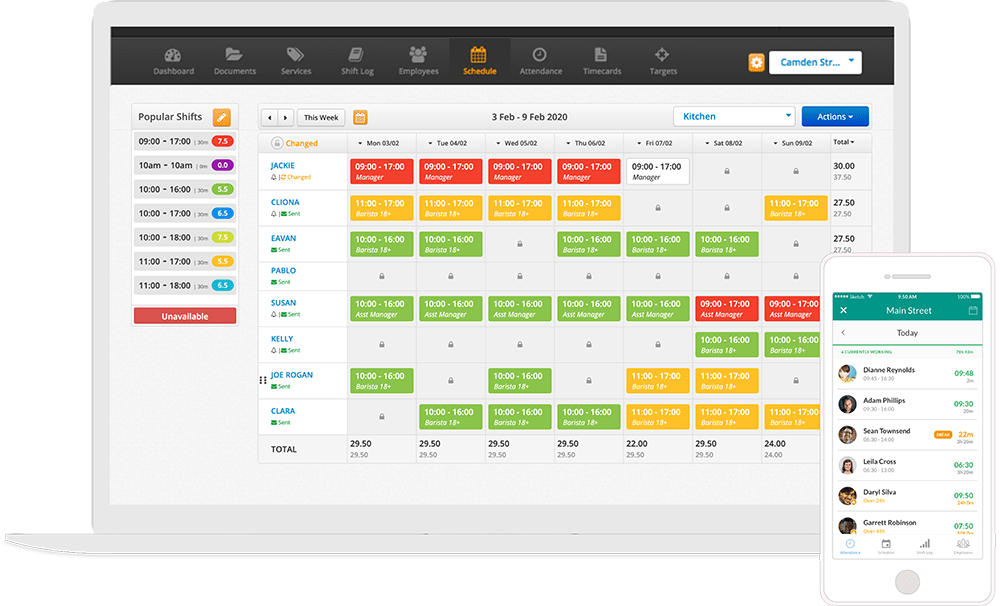 The common phrase "Time is money" is so popular because it is true. Coffee shop owners and employees have a range of tasks to complete every hour without compromising any more time from their busy schedule to complete admin work. Bizimply provides a convenient, easy to use service for businesses that want to cut down on time. Systems that offer the ability to create shift templates and copy entire rotas save hours every week.
You shouldn't have to spend money on a recruiter for compliance checks when hiring. Systems like Bizimply takes the hard work and stress out of this process. This is a crucial service, which can help prevent you from being penalised. Bizimply aim to provide a fully scalable system that covers the entire employee lifecycle.
Bizimply's Rota Software is a labour cost management system that helps cafe owners and administrators monitor, benchmark, and optimize labour costs for their properties. Managers like to see how much their rota is costing them, and live costing updates allow them to iterate and improve on their setup each week. Rota Software also fully integrates time and attendance tracking capabilities into its labour management system.
See what a tailor-made, customisable Rota Software suite looks like.
"When I was a store manager it was already saving me about an hour a week for rota-building alone."
Operations Director, Golden Discs
Rota Software creates a successful workflow with Golden Discs and Bizimply.
By joining forces with Bizimly, Golden Discs can now reap the time-saving and cost-cutting benefits of having Bizimply's Rota Software such as :
Frequently Asked Questions
What is rota software?
It's the process that determines a schedule that your workforce will work. Employees then refer to it so they understand when their shift starts and ends.
Rota management is the same as shift planning—a list showing when employees have to do their job.
Traditionally, it was one of the more hated jobs in the business world as it required a manager to constantly edit a schedule. Any shift swaps or cancellations proved time-consuming and annoying to implement. It was an inefficient process few managers enjoyed. But Bizimply's automated and real-time digital technology now means it's much easier to accomplish—and even enjoyable!
Will Bizimply work with my other systems?
Bizimply is designed to work with a range of systems to make life easier for you.  We integrate with numerous companies across all industries. With payroll, we are compatible with Moorepay, Sage, Brigtpay, Quantum and ADP. Within the BI sector, we integrate with Tenzo, Ezora, Lightspeed, Memotech, and Repl. Bizimply works with Flow in training and Yapster in messaging.  We work with other systems too, making partnering with us a convenient step.
What size business does Bizimply's rota software work best with?
Bizimply is a scalable solution, and specialises in people & operations management solutions for 25 to 1000 employees. We link your time & attendance, scheduling, HR and payroll processing in one easy to use solution. While reducing and managing staff costs we also provide the solutions to better manage the day to day operations for you and your team, saving you time and money straight away!
Try Bizimply's All In One
Workforce Management Platform