Rota Software Solutions for Catering
Improve the productivity of your internal staffing and utilise them across multiple sites and venues. Better manage who is working where, and when. Check-in and out, record and digitally approve timesheets. 
Time consuming shift assignment
This process is the most time-consuming part of staff scheduling and can take managers up to nine hours per week. This task could require further attention if you do not already know how much each shift will cost the business per day, week. Then there are the risks of changes such as requiring overtime and replacement staff.  Rather than waste time and costs on manual shift assignment, consider the benefits of Bizimply's software tools.
Having staff not turn up, or call in sick last minute is unfortunately not an uncommon event in the catering industry. This can then have a knock-on effect on your own professional impression on the client that booked your company. Sadly there will always be workers who don't turn up for their shift or contract an illness, like winter flu. Rather than calling the rest of the team, avoid being left in the dark by organising a back-up team of workers.
It doesn't matter whether you have 30 employees or 300, making sure that you plan for every eventuality is time-consuming and labour intensive. Take a look at how our staff rota software can help you to manage, communicate and stay on top of your staff and business needs easily.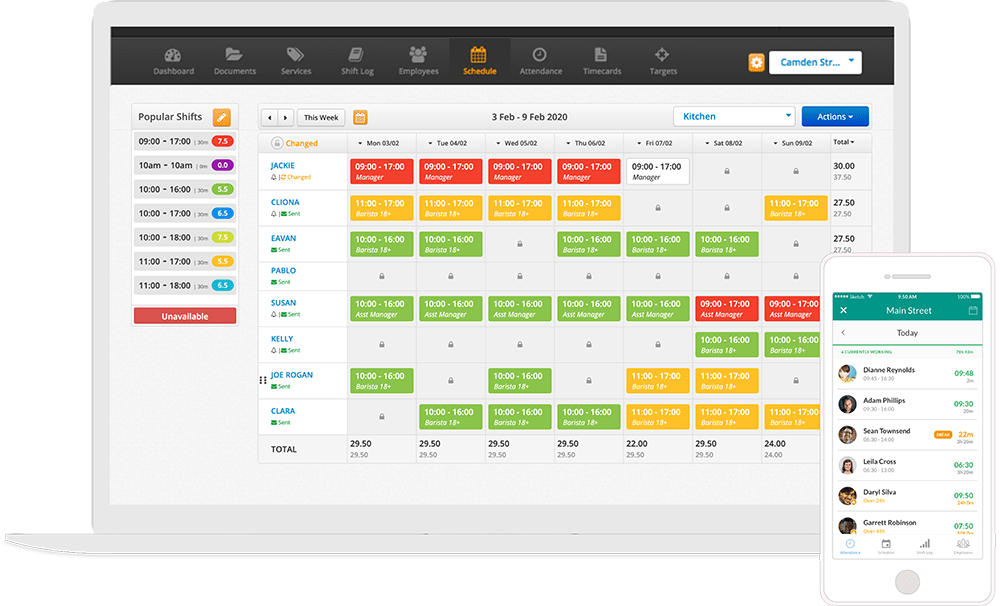 With rota software, you can see hours worked and the impact of this on payroll costs. Track revenue, the percentage of revenue paid in salaries, and how that aligns with your targets. With this feature, you can instantly see an in-depth report on your business metrics as you build your schedule.
Employers can inform their staff about their rota and employees can inform employers when they would prefer to work. Employees can also edit their availability in real-time so that it's always up to date. This makes for happier employees and less time spent updating the schedule to accommodate requests.
Bizimply provides a turnkey solution in relation to candidate Screening and Compliance. The benefits to the employer include providing a complete and compliant HR file, significant cost savings, realignment of internal resources to core competencies, time savings and resources at hand to cover hiring spikes.
See what a tailor-made, customisable Rota Software suite looks like.
"When I was a store manager it was already saving me about an hour a week for rota-building alone."
Operations Director, Golden Discs
Rota Software creates a successful workflow with Golden Discs and Bizimply.
By joining forces with Bizimly, Golden Discs can now reap the time-saving and cost-cutting benefits of having Bizimply's Rota Software such as :
Frequently Asked Questions
What is Rota Software?
Rota software is a more convenient way to manage shift planning, which traditionally, required a manager to constantly create and edit a schedule. Rota software is digitized and easily editable online rota. It is the no-nonsense way to schedule shifts, record time and attendance, and manage annual leave.
Can I track my staff's location with Bizimply?
Yes, Bizimply provides companies with real-time insights into your mobile workforce. With our GPS time tracking system, managers of mobile teams can verify employees are safely on-site, from anywhere. This function is ideal for staff who travel from one site to another, as every time record includes GPS location coordinates. These GPS locations are then recorded on a map in the employee's timecard. Employes also, upon completing their shift, and beginning their shift will be asked to complete questionnaires. This facility ensures that your staff stays compliant with break laws and working time directives. All that is required is a wifi connection for the installation of Bizimply, and it works offline too!
How can I transfer my rota and attendance information to payroll with Bizimply?
With Bizimply Timesheets, employers and managers can approve payroll-ready timecards in a few clicks. Your company can save time and money by approving and sending your timesheets to your payroll providers in minutes. The timesheets provided allow you to automatically calculate and deduct unpaid breaks, as well as Automatically calculate overtime and premium rates. To give you even further peace of mind, all timesheets are stored securely in the cloud.
Try Bizimply's All In One
Workforce Management Platform