In today's ever-changing hospitality industry, it's crucial to have a reliable and adaptable platform to support it.
At Bizimply, our focus is on empowering frontline managers to successfully navigate this fast-paced landscape.
That's why we consistently update our product to align with this mission.
In this article, we will take a closer look at Bizimply's latest product updates, providing you with all the information you need.
MyZimply 4.0: Empowering Employees on the Go! 📲
The app that you already know, but better.
Bizimply introduces MyZimply 4.0, the ultimate mobile app designed for your employees.
As you know, MyZimply makes managing schedules, time off requests, and clocking a breeze. Your employees will be thrilled with how easy it is to stay on top of their work with MyZimply!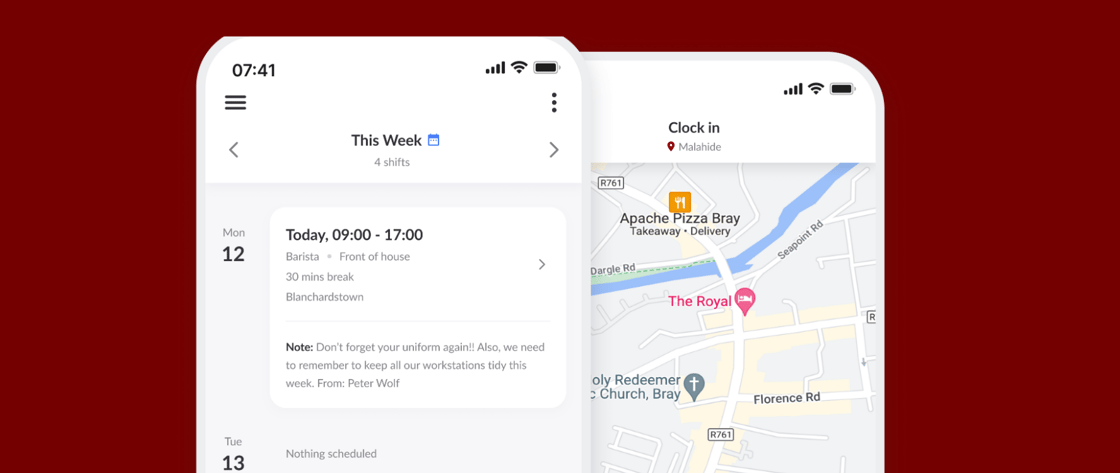 What's new?
Modern and Intuitive Design: Our design team has meticulously crafted a modern User Interface (UI) with a clean and intuitive layout. The updated interface ensures a more streamlined navigation experience, allowing your employees to easily access the features and information they need.
Dark Mode: Dark mode offers a sleek and comfortable viewing experience, especially in low-light environments, allowing employees to focus on their tasks without unnecessary visual distractions. Either match your device's preferred theme or select the mode that you prefer most. 
Expanded Schedule: We've heard your requests, and now your employees can see their schedule weeks, months, or even years in advance!
Bug Fixes: In addition to the UI update, we have diligently addressed various bugs and performance issues reported by our users. These fixes ensure a smoother and more reliable experience, allowing you to use the app with confidence and without any interruptions.
Check our article on MyZimply App to find out more!
Save Money with Bizimply: Enhanced Control Over Labour Costs! 💰
Understanding the importance of managing labour costs, Bizimply introduces this month four different options for applying labour costs to salaried employees.
Check our article on Salary Update to find out more!
This update enables managers to tailor labour cost management strategies to their specific operational needs, optimising resource allocation and improving financial efficiency.
Simplified Employee Deactivation 📆
Bizimply's latest update allows frontline managers to schedule employee deactivation ahead of their finish date.
After the finish date occurs, the employee will…
Be automatically deactivated from the system on that date
Have their future shifts on unpublished schedules automatically deleted
have their time off records for future dates automatically deleted
This feature saves managers valuable time by automating the deactivation process and ensuring seamless transitions when employees leave the organisation.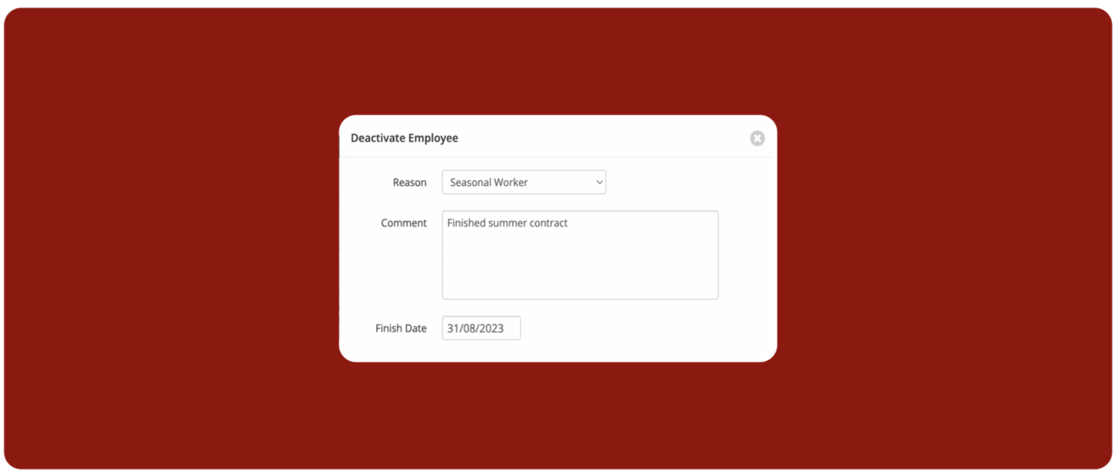 With simplified employee management, frontline managers can focus on other critical tasks, enhancing operational efficiency and reducing administrative burden.
Check our article How to Schedule Employee Deactivation to find out more!
Compliance Alert for Daily Rest Periods 😴
Bizimply recognises the significance of maintaining compliance with daily rest period regulations. An upcoming update will enable managers to display alerts on schedules when an employee's shift times breach the required rest periods.
This update will allow you to display an alert on the schedule when an employee's shift times are in breach of daily rest periods choosing from:
One Rule For All Employees
Age-based Rules
Don't Apply
You can find more information in our article on Daily Rest Periods on Schedule.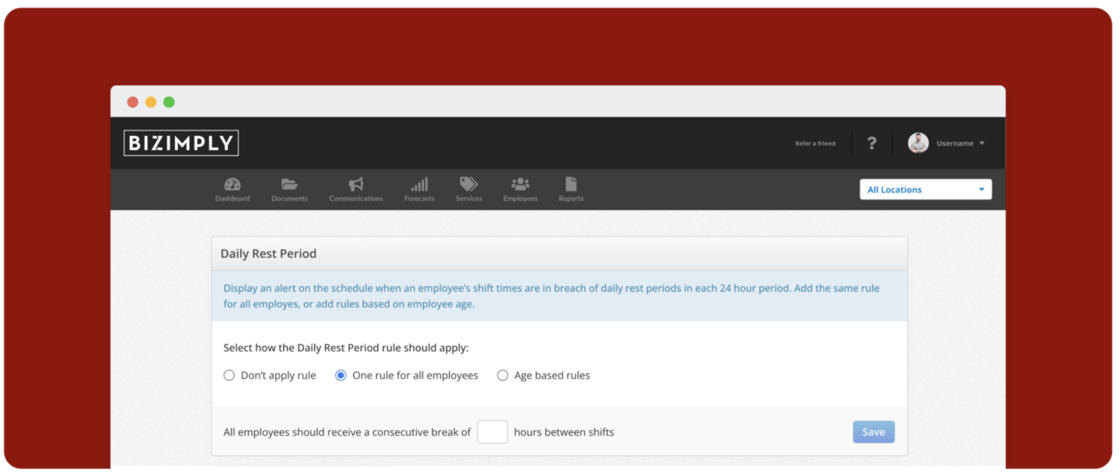 This update provides proactive compliance monitoring, empowering frontline managers to prioritise employee well-being while staying compliant with labour regulations.
Store Employee Sick Files In Time Off Folder 🤒
It is crucial to keep accurate records of sick time off in your workplace.
To make things easier, we have added a 'Time Off' folder to the Documents tab in employee profiles.
This folder will store all of your employee Sick Time Off records, providing an organised and efficient way to keep track of sickness-related documents. Additionally, employees can view these documents by accessing the 'Employee Access' column in their employee portal.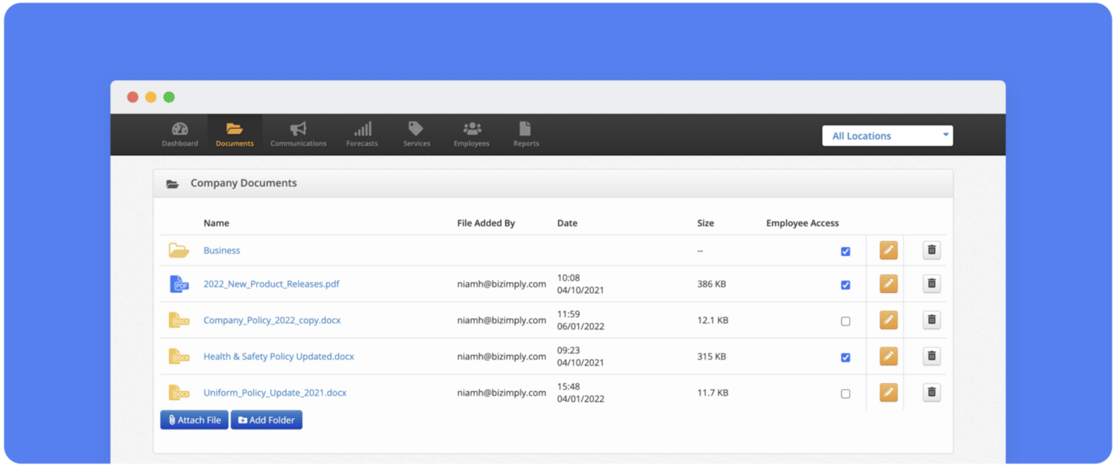 Want to know more information on that? Check our article on Attaching Files to Sick Time Off Records.
Granting Employees Easy Access to Company and Location Documents 📑
Bizimply understands the importance of seamless communication and information sharing within an organisation.
With the latest update, employees can now be granted access to view specific documents within the Documents tab. Here are the details:
'Employee Access' checkboxes have been added to Company and Location level documents
After a checkbox is ticked, the document is then available to employees via their portal
Two new permissions have been added to control who can use these checkboxes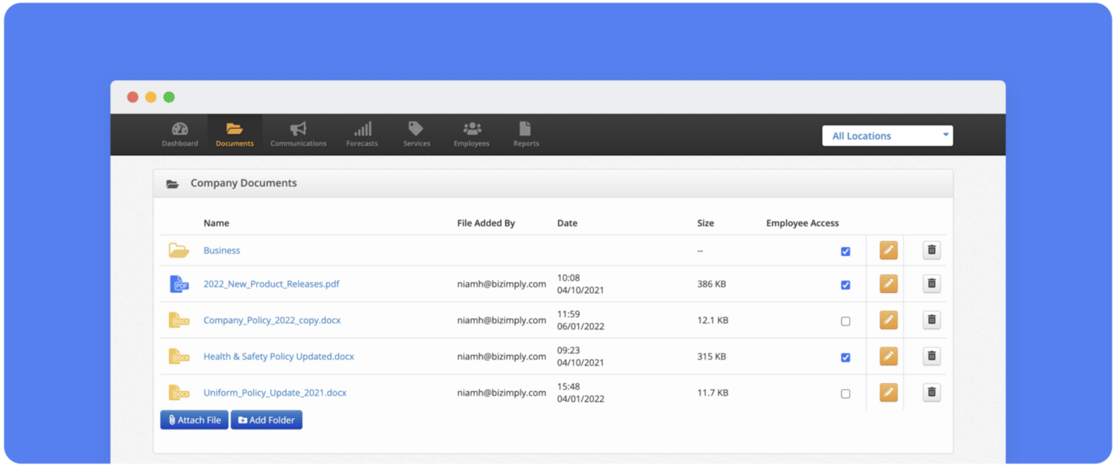 More information on that? Check our article on How to give employees access to Company or Location Documents.
By facilitating document access, you can promote transparency, collaboration, and efficient information sharing across teams, ultimately enhancing organisational productivity and communication.
As a frontline manager in the UK and Ireland, staying ahead of the game can be a challenge.
That's where Bizimply comes in.
Their latest product updates are specifically designed to meet your needs and provide you with tools that will empower you, streamline operations, and enhance the overall employee experience.
By using Bizimply, you can unleash your team's full potential and take your management skills to the next level.