The need for reliable operational planning has intensified with the onset of the current crisis, as has the responsibility to ensure residents feel safe under the care of hard-working staff. We'll outline a few of the challenges that care homes have always faced and which may have become more difficult to deal with recently including staff shortages. We will also look at some remedies that can reduce stress and confusion for management and staff.
We've identified five common pain points care homes often experience when managing their personnel:
1. Onboarding New Staff
Past inspections of care homes have revealed a serious lack of appropriately skilled staff. According to the 2017-18 State of Care Report published in the UK, having the right number of skilled, permanent staff in your care home's workforce is a key driver of high-quality care. Staff should be educated as much as possible where they can to remedy this issue. However, training can be complicated by the various social and medical needs of a care home. It is not always ideal for employees to spread their skillset as some roles demand specialised attention, but it may be necessary to cover skill shortages. Essential training can sometimes get lost in a paper-trail if recorded manually, so care homes should strive to find a solution for accurate onboarding.
2. Communicating Schedules to Staff
A big challenge during schedule building is communicating them to staff. When schedules were manually done, many simply pinned to the wall – employees would need to check themselves if they were on for the week. Nowadays, technology has made it more convienient to communicate information on a regular basis. Some businesses make use of WhatsApp, the instant messaging service, to share images of rotas to employees. WhatsApp, however, is notoriously rife with security concerns – making it a notable operational liability. One-to-many is the way to go for communicating schedules, but a solution has to be secure and easy to send.
3. Managing Agency Staff
Agency staff are personnel hired on a temporary basis in your care home – usually to account for staff shortages or high turnover. While a new source of employees can be a godsend for busy care homes, with that comes a few headaches. Agency staff are often given different pay rates – and that can mean a nightmare for general managers and payroll processors. Care homes need a solution that understands the different rates of pay that employees receive and can account for automatically.
4. Managing Time Off
Unfortunately, care homes are often stretched thin, creating great difficulty when managing and approving time off. Vacancy rates average at 6.6% per home, with some specialised roles still needing to fill up to 10.3% of their total required workforce. This indicates a serious staff shortage, and left untreated, can be a concern to both staff and residents. Employees could be stretched thin in their effort to provide the best care possible to more residents than they should be normally asked to treat – and as a result, potential exhaustion can risk the quality of care that your residents receive, while simultaneously affecting staff turnover rates – which propagates staff shortages in the first place. Time off is necessary to ensure the best performance from your staff, but can be a difficult issue to navigate and can require consistent communication to compromise on when to take it.
5. Payroll Processing
As we've mentioned above, different pay rates for staff can mean constant adjustment of spreadsheets – which can get messy, fast. Spreadsheets can spiral out of control with changing headings, entries and more. While this is ultimately the responsibility of your payroll providers to get right, general managers can help by preparing employee timecard information as cleanly and clearly as possible.
How Can Bizimply Help?
Bizimply Solution #1: Onboarding Checklists
Managers need a reliable way to record the various trainings that employees undertake. This can be done online with the right workforce management solution. Bizimply can allow managers to build out required inductions for employees. This creates a standard for a skilled workforce that can be followed time and again for each employee as sees fit. Just as there are many types of care, multiple training types can be built in Bizimply, guaranteeing a well-rounded staff. Individually assigned training modules to each employee gives an accurate overview of who has knowledge for which situation. As we will explore later on, applying in a few other ways across your business can improve operations.
Bizimply Solution #2: Smart Scheduling/Time Off Requests
One possible way to implement this into your business is with the investment of a smart scheduling system that accounts for both operational obligations and an employee's needs. Knowing when certain residents should receive specific care, for example, asks that an appropriately skilled staff member be available for the corresponding shift. Managers building out rotas for their part-time staff should know who holds the right qualifications and availability to fulfil the best care that the home possibly can. Workforce management systems like Bizimply contain an intuitive drag and drop scheduling functionality, where managers can define and prepare required shift times in advance as templates. Combining predetermined shift times with onboarding checklists then multiplies operational benefits. A knowledgable manager can schedule certain staff only when needed. This increases transparency and saves energy for both managers and staff.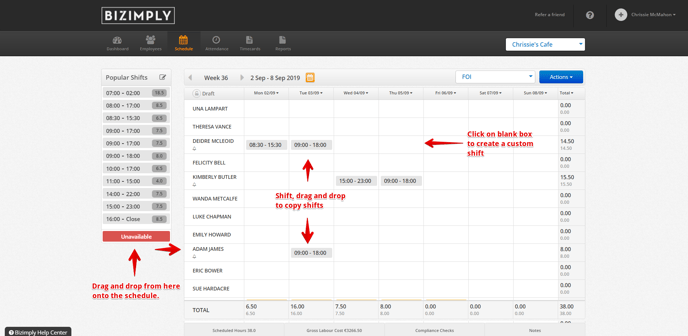 A quick visual overview of Bizimply's scheduling functionality
Time off is also important for staff to recover from intensive schedules. Bizimply lets employees request accrued time off online at the approval of a manager. This information will appear on the scheduling interface, letting managers know employee availability at a glance. This contributes to preventing potential back-and-forth exchanges between employees and management.
Care homes are facing new struggles today, but that does not mean old ones have disappeared. In fact, they have become more important than ever to eliminate. We've looked at a few challenges that the care home industry has always faced regarding staff skillsets and turnover. 
If you'd like more advice on how we can tailor Bizimply for your unique needs, book your demo below.
Or contact us by phone, email or social media:
Phone:
(UK) +44 203 642 5644
(IRE) +353 (1) 254 2524

Email: [email protected]
Help Centre: Click Here
Twitter DM: @Bizimply
LinkedIn: Bizimply