Rota Software Solutions for Construction
Having the right staff, with the right skills in the right place at the right time is key to the success of your organisation. However, this can be a time-consuming task especially when you factor in fluctuating demand levels that come with the territory in the construction business.
This is where Bizimply's Rota Software comes in. We offer a choice of employee scheduling capabilities and we'll help you select the best approach based on your organisation's requirements.
If you run a shift-based business, such as construction, you'll need a rota that works for your staff. Employees can be demanding. They will have set hours they want to work, they'll want to know these hours in advance and they'll want to change them if they don't work for them. To avoid time spent changing the manual rota, Bizimply's rota software can alleviate such challenges. Use the rota software technology to ensure staff are informed about any rota schedules or changes immediately.
The majority of labour costs will be controlled through the rota. If you spend all your time and effort on your manual rota system, you have a chance for revenue to be maximised while working to keep costs within budget. Over-staffing or unnecessary overtime can quickly see costs spiralling out of control. When it comes to hours, good rota management involves allocating hours to each employee, for each shift and for each week (or more if you are scheduling blocks of time in advance.) It's imperative to know how many hours you are using and how much it is costing the business.
With Bizimply's rota software you only have to choose your business objectives – our technology does the rest. Make efficient schedules that perfectly align employee shifts and breaks with your demand curve. Get insights on the impact of adding or removing shifts on your costs and service levels.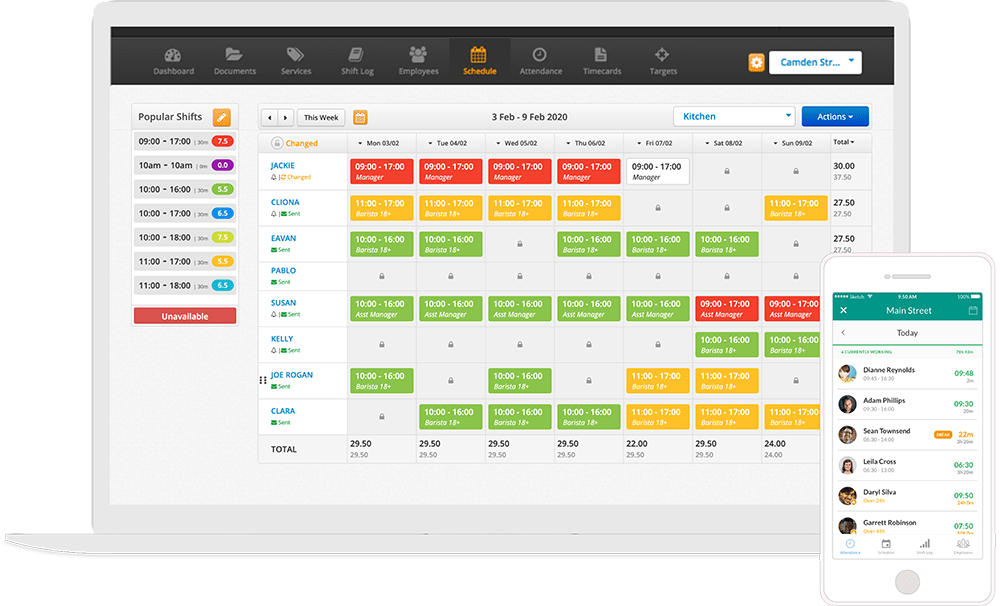 Equipping yourself Bizimly's rota software will make over and understaffing a thing of the past. With Bizimply you forecast the need for numbers of staff on a job. The AI-powered demand forecasting is the driving force behind your most accurate workforce planning. Get notifications of demand outliers automatically and log the impact of events, holidays and promotions to improve future forecasts.
One of the biggest benefits of Rota software, is the ability to track employee attendance and allow staff members to clock in from anywhere. This allows managers to have access to fully integrated time reporting and absence management. Your employees can even punch in and out directly on their smartphones. You can also image-capture worked hours – in real-time; swiftly & effectively. Also, put an end to "buddy punching" in or out.
Reduce scheduling time to minutes and minimize manual changes mid-operations. Bizimply's rota software automatically create schedules and comply with labour laws and rules. Therefore, you can adhere to local labour laws and business-specific scheduling rules with our extensive scheduling technology.
See what a tailor-made, customisable rota management solution looks like.
"When I was a store manager it was already saving me about an hour a week for rota-building alone."
Operations Director, Golden Discs
Rota Software creates a successful workflow with Golden Discs and Bizimply.
By joining forces with Bizimly, Golden Discs can now reap the time-saving and cost-cutting benefits of having Bizimply's Rota Software such as :
Frequently Asked Questions
What is Rota Software?
It's the process that determines a schedule that your workforce will work. Employees then refer to it so they understand when their shift starts and ends.
Rota management is the same as shift planning—a list showing when employees have to do their job.
Traditionally, it was one of the more hated jobs in the business world as it required a manager to constantly edit a schedule. Any shift swaps or cancellations proved time-consuming and annoying to implement. It was an inefficient process few managers enjoyed. But Bizimply's automated and real-time digital technology now means it's much easier to accomplish—and even enjoyable!
What makes Bizimply's rota software stand out?
Having  Bizimply's rota software in place gives employers and their staff real-time date of rotas. When it comes to staffing, managers can always ensure that they have the right person in the right place at the right time, even if last-minute changes arise. By using our rota software you can instantly update your team on shift notices, to give them as much notice as possible.
How can I transfer my rota and attendance information to payroll with Bizimply?
With Bizimply Timesheets, employers and managers can approve payroll documents in a few clicks. Your managers can save time and money by approving and sending your timesheets to your payroll providers in minutes. The timesheets provided allow you to automatically calculate and deduct unpaid breaks, as well as automatically calculate overtime and premium rates. To give you even further peace of mind, all timesheets are stored securely in the cloud.
Try Bizimply's All In One
Workforce Management Platform