Many companies expand by adding new business locations in different cities or towns. But growth of this kind involves logistical complexity and management. As a manager, controlling multiple businesses' can be difficult as your workload has increased but don't fear, we have the tips below to help you do it right.
Different location, same processes and systems
Despite the different locations of a business carrying out the same functions the majority of the time, you will notice that each location has its own personality due to the staff working in that location. To manage this, implement the same operating procedures across all locations. This keeps it consistent and makes it easier when sharing staff across locations as well. Ensure the same Employee Handbook, shift type and structure and training amongst these multiple locations so it is easier for managers to have control when it comes to emergencies like needing shifts covered at other sites.
Don't be an absent manager
Managing one site can be difficult, never mind more than one. However, do you want to be known as the manager who is never around? It is essential that you put in your efforts to travel to meetings or have regular Zoom calls with your employees to provide them with updates or performance reviews. As you can't be in more than one location at the same time, ensure your staff are aware that you are always just a phone call away and actively available if they need to get in touch. This formal structure will keep your employees on their toes and the work that needs done will be completed efficiently. Not making an appearance regularly may result in staff who aren't fully motivated and loyal to achieve the results you may want.
Use a staff scheduling and management system
Managing multiple teams across multiple locations can be difficult, particularly if they are bigger teams. However, a staff scheduling system like Bizimply is the answer to all your problems. It is the ideal solution to keeping yourself organised and staying compliant when it comes to scheduling the correct amount of hours for each of your employees and it allows you to have the right people, in the right place at the right time.
The schedule can then be published and pushed out to all your employees via the app so they can easily access what shifts they have been scheduled for the week. You have the ability to make instant adjustments, sending notifications and reminders directly to individual staff members' mobile devices, whichever location they happen to be at.
Moreover, in this day and age effective communication amongst employees is critical for managing multiple locations and teams. Having a management software system with an app that allows for this will keep your employees informed and relationships positive.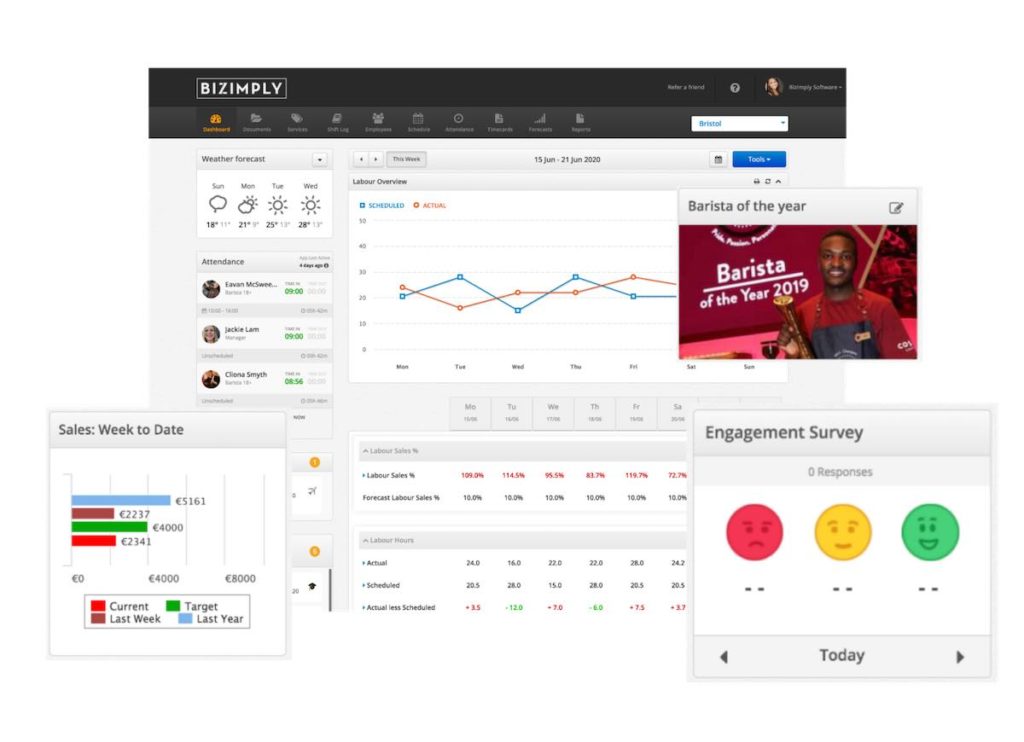 4. Distribute jobs to others
For a business that has multiple locations there should be a management structure in place. Perhaps they are smaller locations and teams at the moment but this can grow over time. Work can pile up and be too much to manage all for one person, relieve the pressure by delegating tasks to other managers or supervisors that are capable of handling the workload and who report directly to you.
This not only benefits you to achieve more in a day, especially if it's filled with meetings but it also increases the experience of the manager or supervisor too, providing them with greater responsibility within the team and an opportunity for career development. Often assigning tasks to your team members will make your team feel more involved and invested in the businesses' goals and objectives, which is highly motivating.
5. Hire the right people
Hiring the right people will make your job of managing multiple teams and multiple locations a breeze. These employees will coordinate and fit in well with the business, fulfilling the goals and objects of the business effectively whilst adhering to business policies. Whilst your leadership is essential to the business, as we discussed above, you can't do it all so hiring the right people will mean you can delegate some of these jobs and you can rely on them to keep things running smoothly.
Do you want to know more about Bizimply and the benefits of implementation to help you manage multiple locations? Just book a a free demo or speak to one of our advisors today – they'd be happy to help!