Trusted by thousands of UK and Irish businesses
What our customers love most
Great Individually. Better together.
Remove the guesswork from rotas and forecasting
Empower managers with a great workforce management solution. Designed specifically for frontline employees.
Run your workforce on the #1 rated HR system
Bizimply provides the ultimate HR solution designed for managers to engage with employees and enhance their performance.
One app to keep your team connected
Keep your team connected with instant, secure and smart messaging.
"Communication is much more proactive. Implementing a hospitality scheduling software has been the best decision for our business."
Operations Director at SIM TRAVA
Get a clear overview of who is clocked in and out or on a break, across all locations.
The Ultimate Guide to Hospitality Scheduling
Download our scheduling workbook today and learn how you can save time and money while creating the perfect schedule.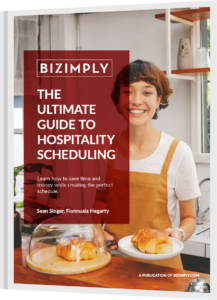 Integrate with Dropbox Sign
Integrated document signing lets you send and receive legally binding, signed documents.
Meet our Payroll Partners
Don't take our word for it. See for yourself
5 reasons your managers will love Bizimply ❤️

The All-In-One Solution
Bizimply combines all your people and shifts management into one easy-to-use solution. From HR and scheduling to time cards and employee communication, our comprehensive application has got you covered. With features like e-signature, labour forecasting, and shift management.

Ease of Use
We are 100% cloud-based, and you can be up and running in a matter of minutes. Say goodbye to time-consuming installations and say hello to instant productivity.

Stay in control of your day-to-day.
Monitor attendance in real-time with late or missed clock-in notifications.
Reduce the time and effort needed to record employee hours and calculate pay
Easily manage absences, PTO requests, and overtime.

Integrations
Bizimply works seamlessly with multiple payrolls and ATS partners, including Sage, Moorepay, ADP, and Xero, allowing you to transfer data with one click.

Control
We give you more control to manage your roles and permissions, than any other solution. You can easily set up regional managers, store managers, supervisors, and more. Bizimply is ideal for multi-location businesses.

Customer Support
Finally, Bizimply's onboarding and support teams are the best in the business.

Are you ready to change how you run your business forever?
Try Bizimply's All In One
Workforce Management Platform