Track Time Towards Activities, Projects & Tasks
A Timesheet App can show you what you have worked on during the day. The possibilities include having every minute in every tool recorded fully automatically – to help you remember. The app can make your time tracking much faster while making sure you never lose billable time again.
Time Wasting Manual Timesheets
With even a relatively busy workday, it is difficult for employees to remember to document every single action and even more difficult not to make an error while multitasking at work. If they choose to wait until they are free it is unlikely they will remember, and the more time passes – the less can be remembered. Therefore often emails and short activities get lost
Automatically capture your time spent in work tools
A Timesheet App allows you to remember times on projects faster – and makes sure you never lose a billable minute again. As an employer, you can get real-time updates when staff arrives, leave work, or go on a break—sent straight to your mobile.
The Timesheet App can enable you and your employees to create project timelines and plan resources with precision. Thus you can add project phases and set milestones, linking tasks to group project dependencies and shift timelines in a click. See more benefits with the timesheet app below: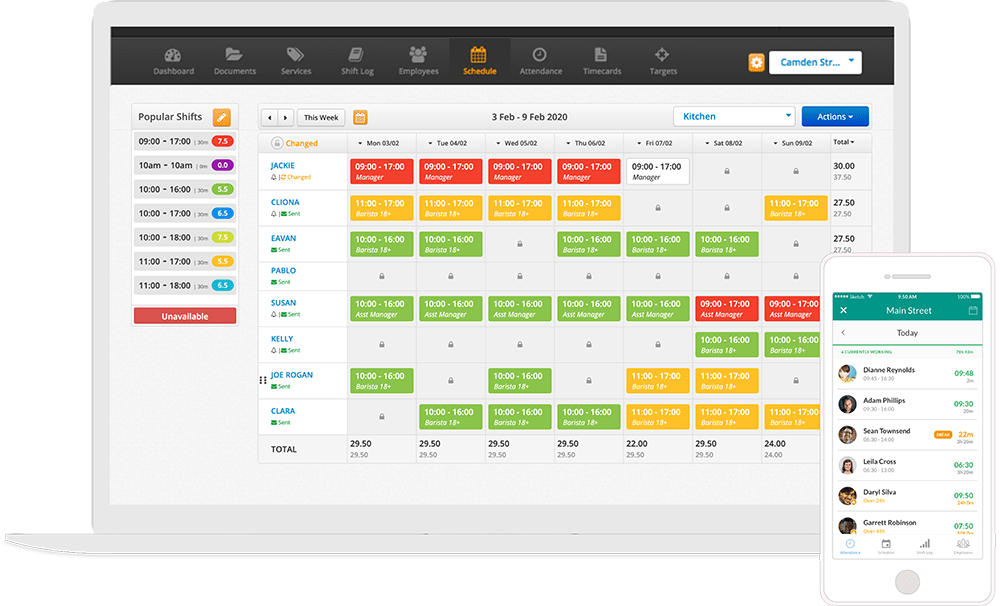 You can focus on your work in terms of reporting your tasks and actions – you don't have to do anything. The Timesheet App records everything for you. While you are working, the Timesheet App records track all your computer activities fully automatically.
Everything you actively edit or read is measured to the second: Every program, every document, and every e-mail.
The employee or business owner's working day is displayed in real-time on a timeline. Only they can see this timeline – the data is stored only on your device (100% privacy).
The displayed activities serve as your reminder to precisely identify time periods and assign them to projects.
Super speedy and efficient
With the Timesheet App you have a clickable field to create time entries and assign them to projects. You can import projects from your project software and sync all time entries back with just 1 click. You can also create projects with The timesheet App and export time entries as PDF, CSV, or timesheet to Excel.
See what a tailor-made, customisable Timesheet App solution looks like.
"When I was a store manager it was already saving me about an hour a week for timesheets alone."
Operations Director, Golden Discs
Timesheet software creates a successful workflow with Golden Discs and Bizimply.
By joining forces with Bizimly, Golden Discs can now reap the time-saving and cost-cutting benefits of having Bizimply's Rota Software such as :
Frequently Asked Questions
What is Time Tracker Software?
Employee time tracking software is a computer program that helps you accurately measure your employees' time on tasks and projects. It was first widely used in service industries, but soon gained traction in many different kinds of businesses all over the world.It starts with implementing the software. You'll sign up for the manager account which will give you access to the dashboard. This is where all the data, analytics, and reports are shown, and from where you can control the settings, customize the reports, oversee all the processes.
Does Time Tracking Software Work?
he effectiveness of the software ultimately depends on a couple of factors. First, have you chosen the right app? If you want task efficiency improvement and you've chosen a program focused on scheduling, there's very little chance that it'll provide what you need. Secondly, are you using the right features? You should stay focused on your business goals in order to see any tangible results.
And lastly, are you acting on the data? In a lot of cases, your improvement shouldn't stop getting the data from a time clock app. You also need to analyze it and act on it. Time management software can't directly solve all your problems on its own, but it does work by providing you with data and reports that'll make solving these problems much easier and more informed.
What Kind of Time Tracking Software is Available Out There?
Task and project tracking software focuses on project workflow and task time analysis. Even though all time trackers have some form of this functionality, some go one step further and offer automatic time tracking, project management, manual time entries, etc. Another type is the employee timesheet app which is heavily focused on attendance tracking to the extent that it borders on time and attendance tracking software. Timesheet tracker solutions provide you with attendance reports, working hours based on activity levels, overtime tracking, clock-ins, and clock-outs. Their overall point is to replace the often inefficient practice of using a timesheet template in Excel to track your employees' working hours.
Try Bizimply's All In One
Workforce Management Platform