Combining Timesheet Apps and Rota-Building
When creating a schedule for the coming week, you need to consider so many things. Employees who are parents have personal schedules that just cannot be worked around. Then of course there are medical appointments that you cannot even suggest rearranging. And of course, there are state labour regulations you need to abide by. So you can't give too many hours to Jane, even though she is your best worker.
The worst thing about the gruelling task of manually creating rotas is that no matter how hard you try, something will always come up. People get sick or need time off for unpredictable personal reasons. When that happens, you need to get back to your Excel sheet and start all over again. But before you go and spend another hour tweaking the timetable, you should consider trying the employee the timesheet app to distribute shifts and rota schedules.
Having the timesheet app to distribute shifts and rotas will save you hours every week. Not to mention it will transform the way you communicate with your team. Instead of chasing employees down to inform them of a new schedule, you can send all the important information to the whole team in an email or text. Shift swapping, time-off management, and labour-regulation compliance will be so simple that you no longer have to worry about it at all. You'll just get notifications in the timesheet app and take it from there.
From retailers to caterers, the timesheet app helps business owners come up with schedules that work both for them and their employees. With a simple drop-and-drag interface, you can quickly create a timetable for the following week or a specific employee.
Team communication is made easier, and the app has a time-tracker that will further help you manage your staff. This will come in handy at the end of the month when it's time to pay your employees.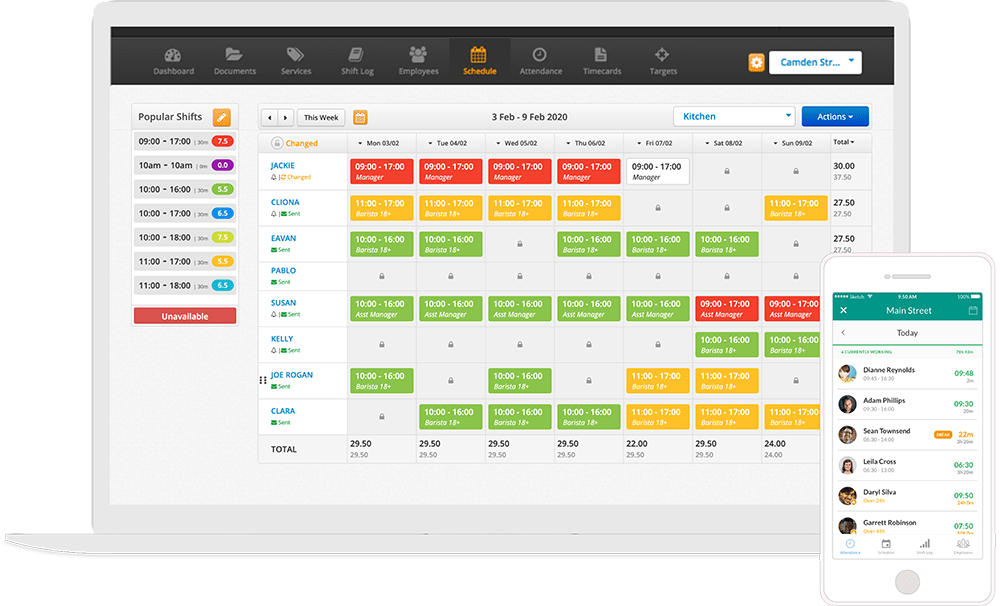 If you're changing from your tried and tested scheduling method for a timesheet app to distribute shifts and rotas, you would expect it to better be simple to navigate. Staff scheduling is an everyday task, so you can't afford to invest a lot of time in learning how to use the software. It has to be intuitive and easy to use from when you get it.
Different industries have different scheduling demands. For example, while skill and experience are always important considerations, workers' qualifications play a less important role in retail than they do in, say, caregiving. If you manage a team of nurses and caretakers, you need to know their exact work experience and training so you can assign the right professional to each patient. While qualifications matter in retail, too, lives are not at stake. That's why one of the factors we consider when evaluating scheduling apps is the abundance of parameters you can set when managing your team.
One of the challenges of employee rostering is delivering the most up-to-date schedule to your workers. Even when you make a great schedule that works for everyone, it's no good if some people don't get access to it. The best scheduling software programs let you share the schedule with your employees via text and email as soon as you create it. This eliminates any miscommunication.
See what a tailor-made, customisable Timesheet App solution looks like.
"When I was a store manager it was already saving me about an hour a week for timesheets alone."
Operations Director, Golden Discs
Timesheet software creates a successful workflow with Golden Discs and Bizimply.
By joining forces with Bizimly, Golden Discs can now reap the time-saving and cost-cutting benefits of having Bizimply's Rota Software such as :
Frequently Asked Questions
How many employees can use Timesheet Mobile?
It can be used for unlimited employees and unlimited administrators.
Can I view my administrator account from any PC or mobile phone?
Yes. Timesheet Mobile is web-based. You can securely log into your admin account from any web browser.
Do you have a smartphone app?
Yes. The smartphone applications are available for installation on Google Play and iTunes. Timesheet Mobile's employee tracking app captures employee punch times and GPS locations and automatically alerts the appropriate manager when an employee leaves a worksite without punching out.
Try Bizimply's All In One
Workforce Management Platform