Simplify Attendance Tracking With Timesheet Software
If you aren't using time tracking software, it's difficult to gain an in depth view of how your business is performing.
Estimating incorrectly can cost you valuable time and money.
With Bizimply's Timesheet Software you can;
Easily

collect & verify timesheets

Automate complex pay

calculations

Integrate with your current payroll software

Get real-time attendance data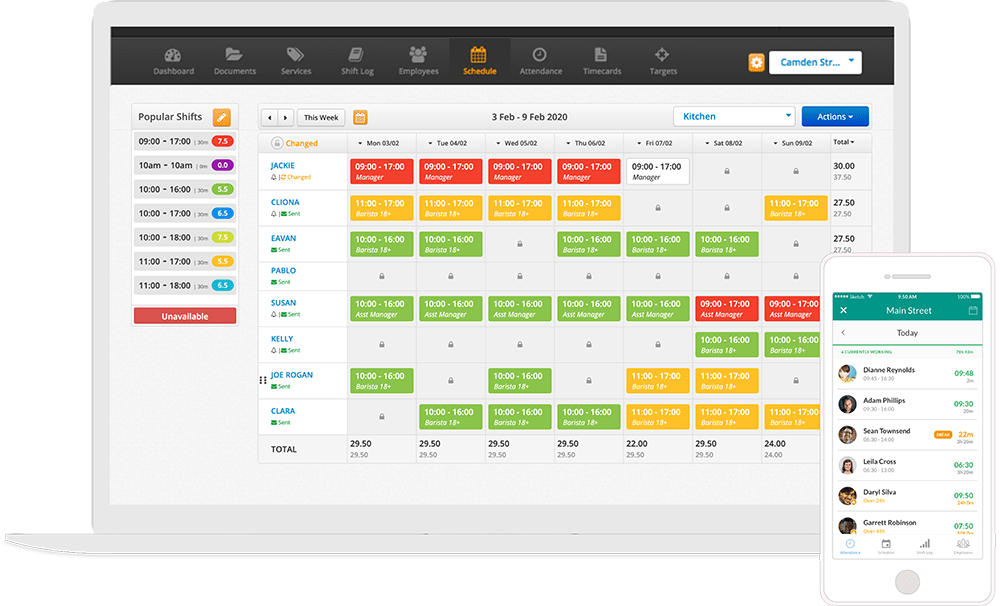 One great benefit of online timesheets, is their ability to show your team's logged hours in real-time. Timesheets are automatically filled and once approved by the manager, can be sent over to payroll in a click.
Creating a seamless process that saves time and money.
Timesheets are mostly used for nonexempt employees, as it allows employers to not only pay for the hours worked but track them to stay compliant with state and federal regulations such as the Fair Labor Standards Act.
This is known as timesheet compliance, and the standards differ depending on the industry and the regulatory entities. For any firms that bill their clients regularly, timesheets work as a means to track those billable hours for each client.
Printable timesheets have to be physically distributed, and even digital copies must be sent electronically. However, online timesheet software is accessible anywhere and at any time. If you're managing teams who work in different locations and time zones, they can log into their timesheet when they need to update it without requiring you to send it to them.
See what a tailor-made, customisable Timesheet software looks like.
"When I was a store manager it was already saving me about an hour a week for timesheets alone."
Operations Director, Golden Discs
Timesheet software creates a successful workflow with Golden Discs and Bizimply.
By joining forces with Bizimly, Golden Discs can now reap the time-saving and cost-cutting benefits of having Bizimply's Rota Software such as :
Frequently Asked Questions
What is Time Tracker Software?
Employee time tracking software is a computer system that helps you accurately measure your employees' time and attendance when they clock in and out for their shifts.
It starts with implementing the software. You'll sign up for the manager account which will give you access to the dashboard. This is where all the data, analytics and reports are shown, and from where you can control the settings, customise the reports, oversee all the processes.
Is Time Tracking Software Bad?
 In and of itself, it would be hard to use a typical time-tracker as a spying tool. Its use is completely legal and, in fact, sometimes even necessary to comply with regulations that seek to protect employees' rights. The timekeeping app only helps you track the clock in and out times of your staff. 
Try Bizimply's All In One
Workforce Management Platform