Rota Software Solutions for Education
Reduce the risk of missed shifts with Bizimply's rota software, offering simple messaging and reminder service. Help your teachers keep on top of even the most varied lesson timetables.
With Bizimply's rota software you can allocate education staff in seconds: match service requirements to staff and get every shift covered in a few quick clicks.
Rising Covid-19 numbers in educational institutions
At the end of December 2020, when students across the UK were due to shortly return to schools and colleges, the UK government announced that the reopening of these educational institutions would be delayed. RTE News reported, "Hundreds of thousands of pupils in England will not return to schools and colleges as planned due to rising infection rates and the spread of the new Covid-19 variant." This was partially due to growing concern from teaching unions and scientists about the spread of the virus following the discovery of its much more transmissible variant, with rising case rates and hospital admissions in many parts of the country.
Students falling behind in their studies
Educational leaders, parents, and students know firsthand the cost of this prolonged period of remote learning, with the absence of a classroom-based regime leading to the loss of student learning. Education systems are generally built around an in-class experience, from technology investments in school-level broadband internet and devices to curriculum design and how teachers are trained. Without a replacement system in place, a student's ability to learn may falter. That is where Bizimply's rota software can help.
By using Bizimply's rota software and adopting rota systems in schools and colleges can provide continuous education while helping to suppress the virus.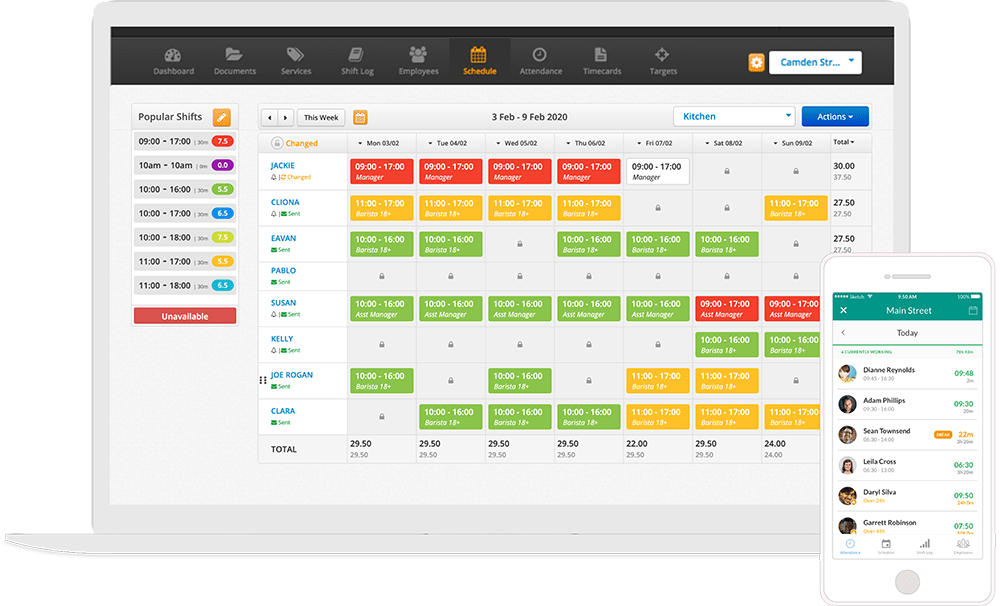 Although the vaccine is currently being rolled out across the UK, coronavirus infection rates are still prevalent particularly among teenagers. Adopting rota systems, such as week on, week off rotas, in secondary schools and colleges could provide continuous education while helping to suppress the virus among students, staff and in the community.
Some secondary schools and colleges in England are planning for a "new normal" of remote learning rotas as coronavirus disruption rises. With the current restrictions being implemented, remote learning is going to be a part of a student's education for the foreseeable future. The number of children suffering disruption as a result of coronavirus is rising, but Bizimply's rota software can help minimise these disruptions and introduce routine into the student's learning environment.
Better teaching organisation
UK bases School leaders have renewed their pleas for the government to allow rota systems to be put in place – arguing that with so many pupils self-isolating many schools are effectively operating a chaotic rota system anyway. A UK study published in "Headteacher Update" showed more than 1,200 primary and secondary school leaders outline the main challenges facing schools during wider re-opening. Primary schools in the survey said that they would be making use of rotas, with different year groups or classes attending on different days (65 per cent), while the use of staggered lunch and break times is also on the cards (78 per cent).
See what a tailor-made, customisable rota management solution looks like.
"When I was a store manager it was already saving me about an hour a week for rota-building alone."
Operations Director, Golden Discs
Rota Software creates a successful workflow with Golden Discs and Bizimply.
By joining forces with Bizimly, Golden Discs can now reap the time-saving and cost-cutting benefits of having Bizimply's Rota Software such as :
Frequently Asked Questions
What is rota software?
Employees can log into and access their own shift rotas. This allows for quicker and more effective communication across the board. Using comprehensive rota software can help ease the frustrations of trying to manage multiple schedules, payroll, and other HR tasks, particularly in large scale businesses.
Will Bizimply work with my other systems?
Bizimply is designed to work with your already existing systems to make your work easier for you.  We integrate with numerous companies across all industries. With payroll, we are compatible with Moorepay, Sage, Brigtpay, Quantum and ADP. Within the BI sector, we integrate with Tenzo, Ezora, Lightspeed, Memotech, and Repl. Bizimply works with Flow in training Yapster in messaging.  We work with other systems too, making partnering with us a convenient step.
What size business does Bizimply's rota software work best with?
Bizimply is a scalable solution, and specialises in people & operations management solutions for 25 to 1000 employees. We link your time & attendance, scheduling, HR and payroll processing in one easy to use solution. While reducing and managing staff costs we also provide the solutions to better manage the day to day operations for you and your team, saving you time and money straight away!
Try Bizimply's All In One
Workforce Management Platform