Rota Software Solutions for Bars & Pubs
When you rely on part-time or hourly staff to run your business, rota planning becomes perhaps the most important admin task there is. The increasing popularity of flexitime and other flexible working arrangements means that staff schedules are becoming more important in traditional office environments, too. Despite this ever-present and growing need for employee schedules, many companies still struggle with rota planning and management.
Confusion over rota versions
Employees check one version of the rota and make a note of their shifts. They're unaware of any more recent versions of the rota, meaning that the wrong staff turn up at the wrong place at the wrong time. Bizimply's rota software will automatically notify relevant staff of shift changes.
A guaranteed way to make workers feel insecure and resentful in their role is to routinely update shift patterns at the last minute. For starters, it can stop employees from planning anything enjoyable in their free time with any degree of certainty. Make sure your work rota is stable and accurate, with no one getting overworked or under-used. Also ensure shifts are balanced between staff members, unless there are pre-arranged agreements where you or another staff member have agreed with your employer to work only weekends or nights.
Take the time out of employee scheduling with our intuitive drag & drop planner. Do away with scheduling headaches and focus on food, drink, and happy paying customers. Rota building doesn't have to be time consuming. It shouldn't be an admin task that you dread. With Bizimply's rota software, you can cut your weekly rota planning time significantly.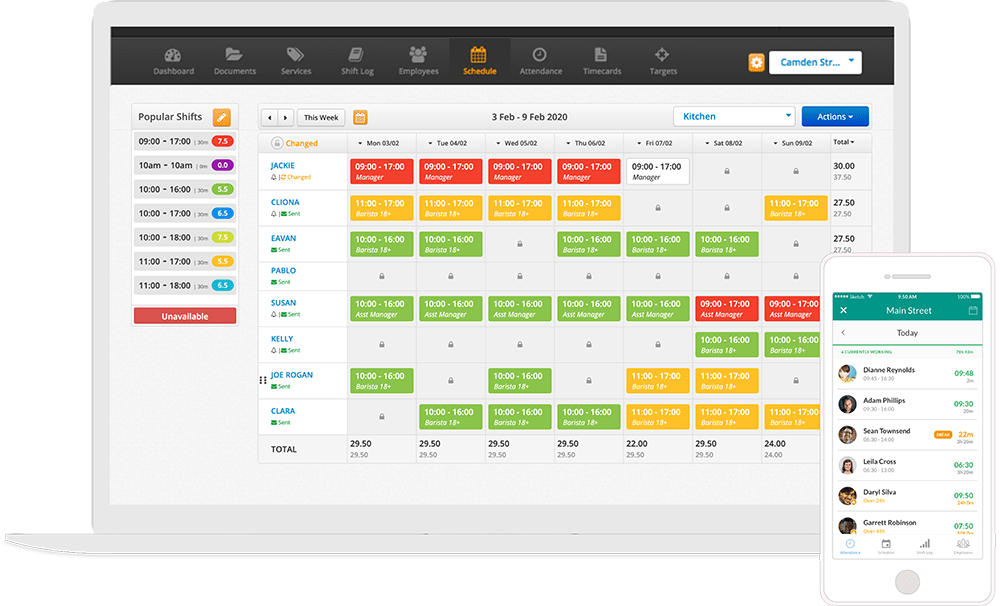 Get quick payroll data for your restaurant or bar from timesheets, pay grades, and deductible lunch breaks to see exactly what your costs are. Bizimply's rota software provides an accurate, compliant payroll in a single, unified, automated solution, with auditable processes adapted to the unique requirements of each location.
Keep everyone in the loop with messaging and reminders to raise accountability. Never again fall foul of an understaffed kitchen! At its core, Biziply's rota software keeps everyone informed, as soon as possible so that all staff can organized and on track. The end goal is to happy satisfied, informed staff so that your business can operate smoothly and efficiently.
A rota that is accessible from home, or wherever your staff members may be, can help employees easily keep track of their shifts. This can also help stop staff shortages. If you are ill or circumstances arise when you need to change your shift, you can inform other members of staff to check the rota. An employee-friendly rota will be mobile friendly, allowing you to check shifts from the comfort of your own phone.
See what a tailor-made, customisable Rota Software suite looks like.
"When I was a store manager it was already saving me about an hour a week for rota-building alone."
Operations Director, Golden Discs
Rota Software creates a successful workflow with Golden Discs and Bizimply.
By joining forces with Bizimly, Golden Discs can now reap the time-saving and cost-cutting benefits of having Bizimply's Rota Software such as :
Frequently Asked Questions
How can I transfer my rota and attendance information to payroll with Bizimply?
With Bizimply Timesheets, employers and managers can approve payroll documents in a few clicks. Your managers can save time and money by approving and sending your timesheets to your payroll providers in minutes. The timesheets provided allow you to automatically calculate and deduct unpaid breaks, as well as automatically calculate overtime and premium rates. To give you even further peace of mind, all timesheets are stored securely in the cloud.
How do you build rotas with Bizimply?
Our sales team would be happy to walk you through the easy to use process of building rotas with Bizimply.  To describe the process briefly, all staff receives an email of their own individual rota when it is published unless they have been manually excluded from the email.  Managers and other authorised personnel can easily log onto your preferred web browse, or via the app "My Zimply" with your Bizimply login information.  Once your schedule is published, your shifts will be available to see on the app or portal.
Can I track my staff's location with Bizimply?
Yes, Bizimply provides companies with real-time insights into your mobile workforce. With our GPS time tracking system, managers of mobile teams can verify employees are safely on-site, from anywhere. This function is ideal for staff who travel from one site to another, as every time record includes GPS location coordinates. These GPS locations are then recorded on a map in the employee's timecard. Employes also, upon completing their shift, and beginning their shift will be asked to complete questionnaires. This facility ensures that your staff stays compliant with break laws and working time directives. All that is required is a wifi connection for the installation of Bizimply, and it works offline too!
Try Bizimply's All In One
Workforce Management Platform