Rota Software Solutions for Pharmacies
The Pharmacy industry is evolving and Bizimply wants to help pharmacy teams change the way they work, to help save time and increase efficiency. We provide your healthcare business with a range of features, including easy and intuitive scheduling solutions.
When running a pharmacy, it is key to avoid gaps in the rota, and it is even more important to make sure that staff issues do not cause store closure, which results in financial penalties from regulators. By using Bizimply's rota software, which gives staff immediate updates on a rota schedule, employers give their staff adequate time to rearrange certain obligations or appointments if they conflict with shift times, or simply not make conflicting plans in the first place.
It is a common complaint in many industries that rotas and schedules are not posted well enough in advance, leading workers to feel uncertain about their own personal schedules and doubt their desire to stay with particular brands and companies for a long period of time. This particularly affects hourly workers and has been shown to have negative effects on their mental wellbeing. Fortunately, by using Bizimply's rota software in the pharmacy industry, this doesn't have to be the case.
In every industry, planning ahead is key to minimising scheduling issues for pharmacies is no exception. Whilst running a pharmacy, you will undoubtedly have to create shift rotas and schedules for permanent staff and locums alike.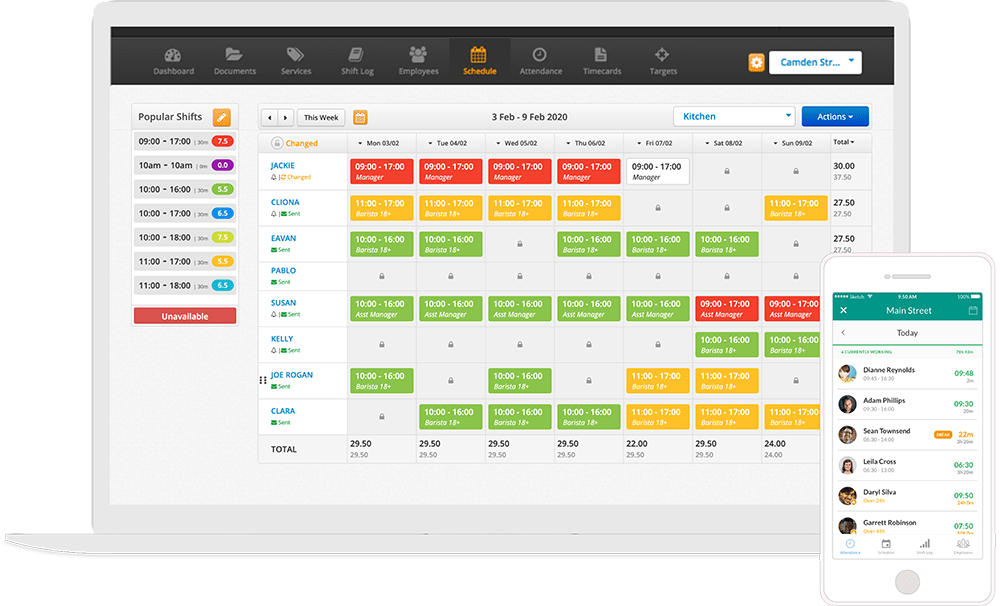 Schedule pharmacists and pharmacy retail staff according to their availability and assign them workspaces, e.g. treatment room, on-call shift, medicine counter. This way your employees know when, where, what to do at all times. This helps in transparency and helps you keep track of workforce planning in your practice.
Annual leave and absences
Give your employees the opportunity to apply for leave and absences on their own. All you need to do is confirm or reject them, with Bizimply's app notifying you immediately of any scheduling conflicts.
Digitized shift recording
Bizimply offers you a wide range of possibilities to record the working hours of your employees. Use the automatic time recording via roster and the mobile clock app. In addition, you can flexibly decide for each employee how the time recording should be carried out. With Bizimply's rota software your needs to manage the workforce can be reached at any time and anywhere with any device.
See what a tailor-made, customisable Rota Software suite looks like.
"When I was a store manager it was already saving me about an hour a week for rota-building alone."
Operations Director, Golden Discs
Rota Software creates a successful workflow with Golden Discs and Bizimply.
By joining forces with Bizimly, Golden Discs can now reap the time-saving and cost-cutting benefits of having Bizimply's Rota Software such as :
Frequently Asked Questions
What is Rota Software?
Rota software is a more efficient way to manage shift planning, which traditionally, required a manager to spend time creating and editing a schedule. Rota software is digitized and easily editable online rota. It is the no-nonsense way to schedule shifts, record time and attendance, and manage annual leave.
Why is rota software important?
Employees can log into and access their own shift rotas. This allows for quicker and more effective communication across the board. Using comprehensive rota software can help ease the frustrations of trying to manage multiple schedules, payroll, and other HR tasks, particularly in large scale businesses.
What makes Bizimply's rota software stand out?
By using our rota software you can instantly update your team on shift notices.   With the ability to report on sales per labour hour, targets vs actuals and other aspects of the business Bizimply's intuitive design makes its rota software ultra-easy to use. Bizimply wants to help your business save time, and money, in real-time.
Try Bizimply's All In One
Workforce Management Platform
People Management for Pharmacies
Simplify your pharmacy shift-based business
Pharmacies are businesses that need good control over processes to operate efficiently – but manual people management can prove cumbersome for the fast-paced nature of the workplace.
Bizimply is designed to empower pharmacy managers and business owners by giving them exactly what they need to improve their people management, from labour cost optimisation, compliance management and easy payroll integrations.
Download our brochure to discover how Bizimply can improve your pharmacy's people management!
Huge labour cost savings.
The Challenge: Pharmacies rely hugely on the expertise of their workforce – without the right people at the right time, the job can't be carried out. However, this requires a lot of detailed management that managers don't have the time to carry out with paper-based processes, so the labour costs begin to rack up.
The Solution: Bizimply improves labour cost management across the board by keeping it all in one place – rota-building, timesheet management and more.
Improved compliance with Bizimply.
The Challenge: Good compliance management is essential in a pharmaceutical environment where every piece of inventory needs to be accounted for. The same goes for team members – HR and managers need to know where trained personnel are working to be prepared when crisis strikes.
The Solution: That's where Bizimply's digital document management comes in – no more getting stuck in the back office under mountains of paperwork again! Bizimply automatically organises important records by employee and type, meaning everything is where it should be, when you need it.
Easy payroll integrations.
The Challenge: When systems aren't connected, managers can have trouble transferring important staff attendance data to payroll services. Have you or your manager ever spent more than six hours a week getting payroll ready? It's all too common for pharmacies, but entirely preventable.
The Solution: Bizimply is specifically built to allow managers to approve and send timesheets to your payroll provider quickly. We've partnered with some great payroll companies like Moorepay and Sage to bring the best and easiest integrations to your business.
Consult with our experts for a personalised pharmacy people management solution
Bizimply simplifies workforce management for multisite pharmaceutical companies, bringing together easy compliance management with intuitive labour cost management.
"Bizimply has made managing the scheduling of multiple sites less challenging. It offers us great visibility and enables us to better manage our wage costs and scheduled hours per store. We love how Bizimply continuously evolves offering us better tools to meet our business needs."
HR Manager, Mulligan's Chemists
Key achievements with Bizimply:
A selection of our partners & integrations
Moorepay offer a powerful payroll & HR solution that integrates with Bizimply's time & attendance offering.
With Bizimply and Sage you eliminate the double-entry of data and ensure your staff are paid accurately and on time.
With Bizimply and Brightpay attendance data is easily transferred over to payroll, saving time and money.
"Having all the employee records on a centralised platform meant we could do away with spreadsheets and endless pieces of paper."
Managing Director, Soar Group
Key achievements with Bizimply:
What will the road to recovery look like for companies and leaders as we slowly but surely return to normal?
Read More
Try Bizimply's All In One
Workforce Management Platform For Pharmacies