HR software management made easy
Save time and money with a comprehensive HR management app designed for businesses like yours. Connect your HR needs like holiday records, onboarding and document management together in one with Bizimply's dedicated integration to Moorepay.
Saving Time and Making Profit With Better HR Management
Want better control over your business and staff? Look no further than to Bizimply and Moorepay's all-in-one HR management and staff rota solution. Connect time & attendance software with a comprehensive HR and payroll management system that takes complete care of your operational needs.
Combined HR and attendance management.
Moorepay's cloud-based, HR software helps you manage the employee life-cycle with ease. Say goodbye to spreadsheets and paper, all your employee data will be safely stored in one place that's accessible online,
Record accurate punch times with real time photo capture to avoid buddy-punching with Bizimply's Timestation App for iPad. Automatically populate timecards for payroll.
Seamless integrations and connected payroll.
The seamless connection between Moorepay and Bizimply removes process inefficiencies, the need to input duplicate data and improves employee engagement via an easy-to-use integrated system.
inefficiencies, the need to input duplicate
data and improves employee engagement
via an easy-to-use integrated system.
Remove manual processes and ensure employees get paid on time, every time. Moorepay makes payroll a breeze via easy-to-use, cloud-based, HMRC approved software.
With Moorepay and Bizimply, businesses can make informed decisions using easily accessible people analytics information, live labour cost tracking per department, attendance information for payroll and more.
Together, Moorepay and Bizimply save businesses thousands of pounds and hundreds of hours per month with an integrated solution designed for scalability and adaptability.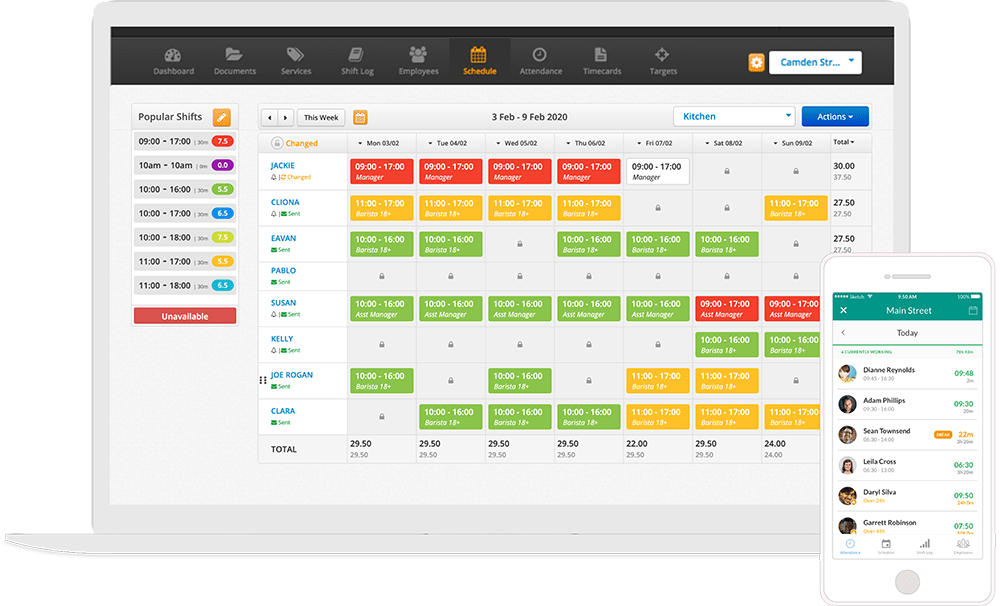 Discover for yourself why Bizimply and Moorepay are world leaders in Complete HR Management.
A selection of Bizimply's HR management features:
"I love being able to see the costs per day, week & between departments. Having that data of how much we're spending day to day has allowed us to see where we've been both over and understaffed."
Key achievements with Bizimply:
Try Bizimply And Moorepay's All In One
Human Resources Management Platform