Employee Timesheet App Powered by GPS Geofencing Technology
When your team works in the field, introducing technology that tracks employee location makes life easier for everyone in the workplace.
Employers can benefit from the straightforward, super simple methods of obtaining crucial reporting while employees will have the reassurance of knowing they clocked in and out on time, don't need to follow up with further paperwork.
Timesheet errors and fraud
Your payroll expenses are likely the biggest expense for your business and most vulnerable to fraud. Unfortunately, not all workers are honest and some will work harder to cheat on their time instead of just doing their job. Some employees have been caught punching in/out when they are not at the job site. Of course, there are also times when employees will honestly forget to punch in/out from time to time. With geofencing, the app prevents these forgetful moments.
The Solution: GPS Timesheet app recording
When employees enter or leave a geofence, the timesheet app powered by GPS geofencing technology reminds them to clock in or out. This decreases the occurrence of timesheet errors and edits. By setting a geofence around all your job sites, timesheet mobile alerts employees or contractors when they arrive, continuously monitors them during the shift and notifies managers if they leave the site while punched in. This also saves time in so many other areas as it eliminates paperwork.
Take advantage of Bizimply's Timesheet app that is powered by GPS geofencing technology, providing your organization with a range of benefits.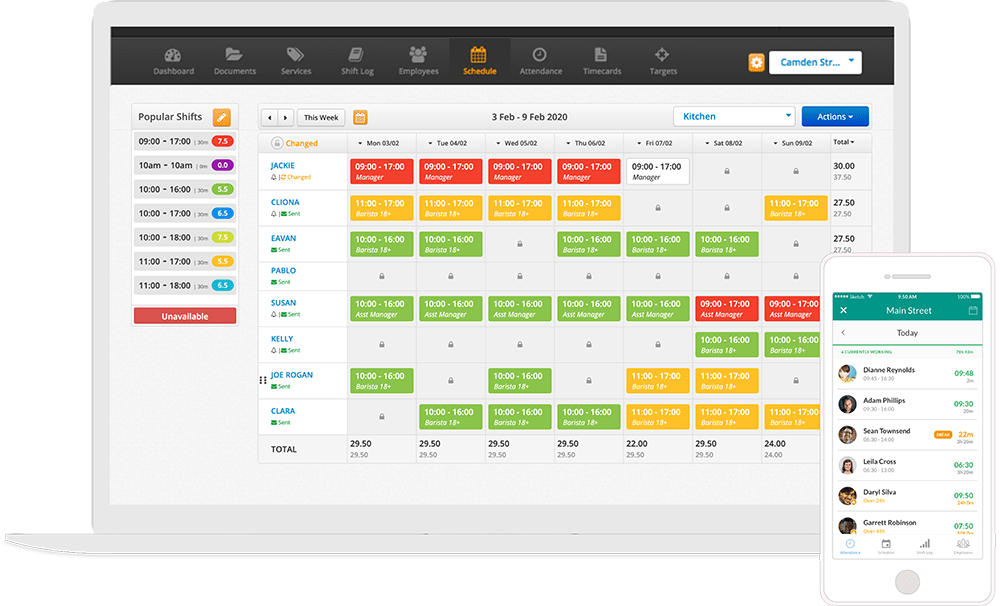 Employees and managers alike love geofencing for easier, more accurate time tracking. When you enter or leave a job site, your time tracking app will send you a reminder to clock in or out and suggest a list of job options associated with that location. Therefore, the panic of realising you forgot to clock out can be a thing of the past for employees. Fewer timesheet edits, an extra level of verification, and an easier experience overall.
GPS time tracking gives you visibility into how your team moves from client site to client site. This means you can track their time and attendance based on their locations without needing to travel to each site yourself.
Geofencing tech remembers when you enter or exit a job site for accurate timesheets. Working behind the scenes, a clock in screen with relevant job codes assigned to that location makes it easy to clock into the right job.
See what a tailor-made, customisable Timesheet App solution looks like.
"When I was a store manager it was already saving me about an hour a week for timesheets alone."
Operations Director, Golden Discs
Timesheet software creates a successful workflow with Golden Discs and Bizimply.
By joining forces with Bizimly, Golden Discs can now reap the time-saving and cost-cutting benefits of having Bizimply's Rota Software such as :
Frequently Asked Questions
What Kind of Time Tracking Software is Available Out There?
Task and project tracking software focuses on project workflow and task time analysis. Even though all time trackers have some form of this functionality, some go one step further and offer automatic time tracking, project management, manual time entries, etc. Another type is the employee timesheet app which is heavily focused on attendance tracking to the extent that it borders on time and attendance tracking software. Timesheet tracker solutions provide you with attendance reports, working hours based on activity levels, overtime tracking, clock-ins, and clock-outs. Their overall point is to replace the often inefficient practice of using a timesheet template in Excel to track your employees' working hours.
How can GPS tracking save me time?
GPS tracking tells you which employees are on the clock and where they're located. You'll be able to see who is closest to a customer when scheduling a new job on the fly, more effectively manage employees at various locations, identify inefficiencies in workloads and routes, and build trust by adding accountability safeguards that benefit everyone. Access our knowledge base to learn more about using GPS tracking as an admin or manager.
Can I choose whether location tracking is optional or required?
Yes. To make location tracking a prerequisite for an employee to track time, you can change the employee's mobile options tab on your timesheet app. The employee will only be able to clock in once location tracking is enabled by the app on their smartphone.
Try Bizimply's All In One
Workforce Management Platform